7 Best Hook Grip Thumb Tapes for Weightlifting in 2023
It is necessary to have a stable grip so that you can set not only personal but also world records. This is especially important for your confidence and if you are an athlete. Some manufacturers make bad products that slip off your hands or tear, which can be unsafe and might completely destroy your zeal for the sport.
So, let's take a look at the best hook grip tape options you can buy: these things will definitely never let you down and will serve you for years to come. Let's get started!
Our Best Choice!
Prepare to take your weightlifting game to the next level with the WARM BODY COLD MIND 2″ Premium Lifting Thumb Tape! Meticulously crafted by Olympic Champion Oleksiy Torokhtiy, this thumb tape is not just a tool but a game-changer for weightlifters, powerlifters, and strength athletes.
Top 7 Best Hook Grip Thumb Tapes for Weightlifting Reviewed
ROGUE STICKY GOAT TAPE – Runner-Up
Let's now look at them in more detail so that you can rationally choose the product that we will offer you in this list.
Prepare to take your weightlifting game to the next level with the WARM BODY COLD MIND 2" Premium Lifting Thumb Tape! Meticulously crafted by Olympic Champion Oleksiy Torokhtiy, this thumb tape is not just a tool but a game-changer for weightlifters, powerlifters, and strength athletes.
Expertly designed for those who demand nothing but the best hook grip tape, it greatly improves grip while lifting and protects thumbs and palms during hook grips. Whether you're a seasoned professional or a fitness enthusiast, this tape will undoubtedly become your go-to gear for heavy lifting sessions.
Roll Size: 2-inch width.
Material: 100% cotton
Glue: Extra barbell tape adhesive.
Color: Black, Blue, Pink, Yellow, White, and Red.
Pack Size: Single pack.
Best for: Olympic weightlifting, powerlifting, dumbbells, functional fitness, and gymnastics.
The WARM BODY COLD MIND 2" Premium Lifting Thumb Tape is a premium quality product that offers the best hook grip tape, protection, and comfort, making it an essential accessory for any serious weightlifter or powerlifter.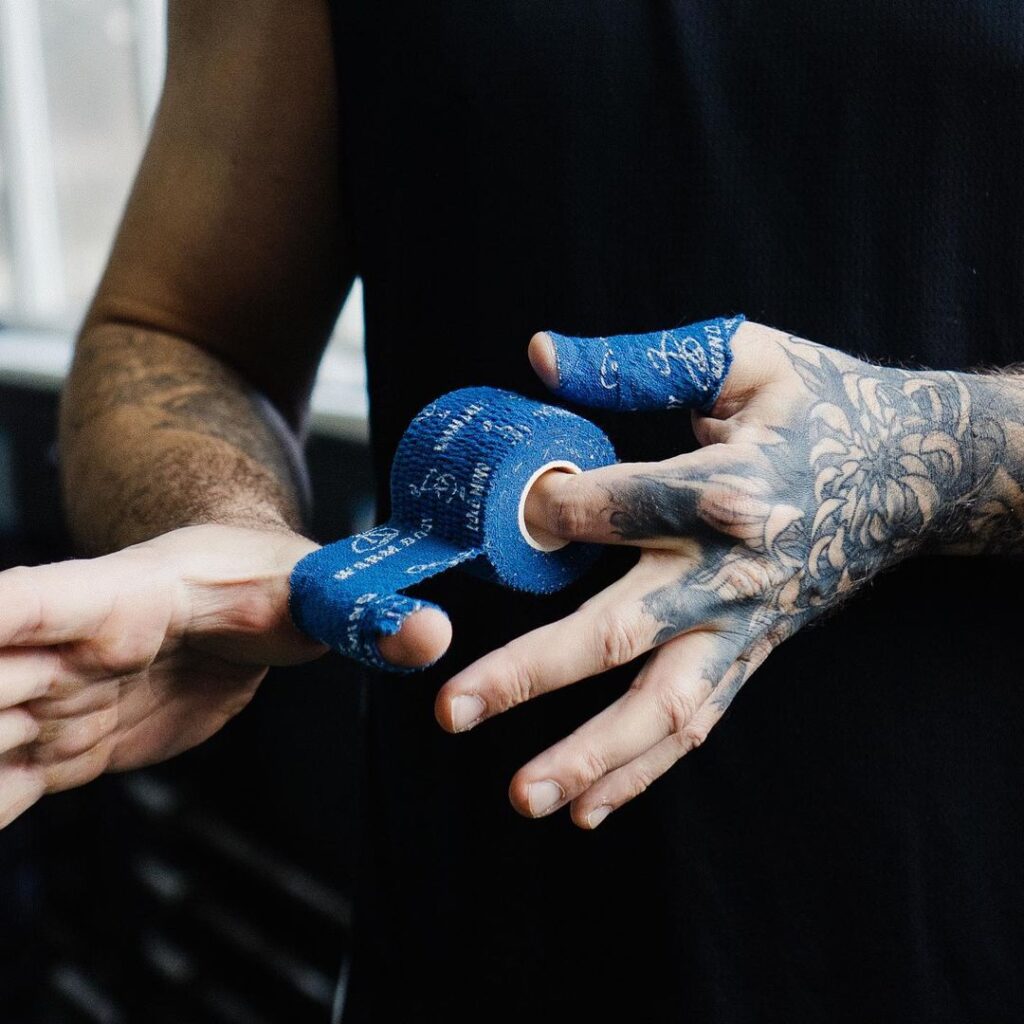 Its minor cons are easily outweighed by its numerous benefits, and with an overall rating of 9 out of 10, it's a highly recommended product for enhancing your training experience!
Pros
Boosts weightlifting grip
Guards against abrasions
Easy hand tearing and versatile use
Cons
May require reapplication during long workouts
Unleash your inner strength with the Rogue Sticky Goat Tape. This top-tier, high-performance weightlifting tape for hands is designed for the champion in you. With its superior stickiness and elasticity, it is the ultimate companion for any weightlifting enthusiast.
The Rogue Sticky Goat Tape offers an unparalleled grip that will keep your hands secure even during the most intense workouts. Its durability ensures it stands the test of time and the rigors of weightlifting. With its easy tearability, you can apply it effortlessly and focus more on your lifting.
Roll Size: 1.5 inches x 10 yards
Material: Cotton Blend
Glue: Natural Latex
Color: Black
Pack Size: 2 Rolls per pack
Best for: Weightlifting
You can trust us. There's a reason we chose this position as the second-best outfit variation you can imagine and use in your daily workouts to improve your overall performance. The Rogue Sticky Goat weightlifting tape for hands is an outstanding product for sportsmen.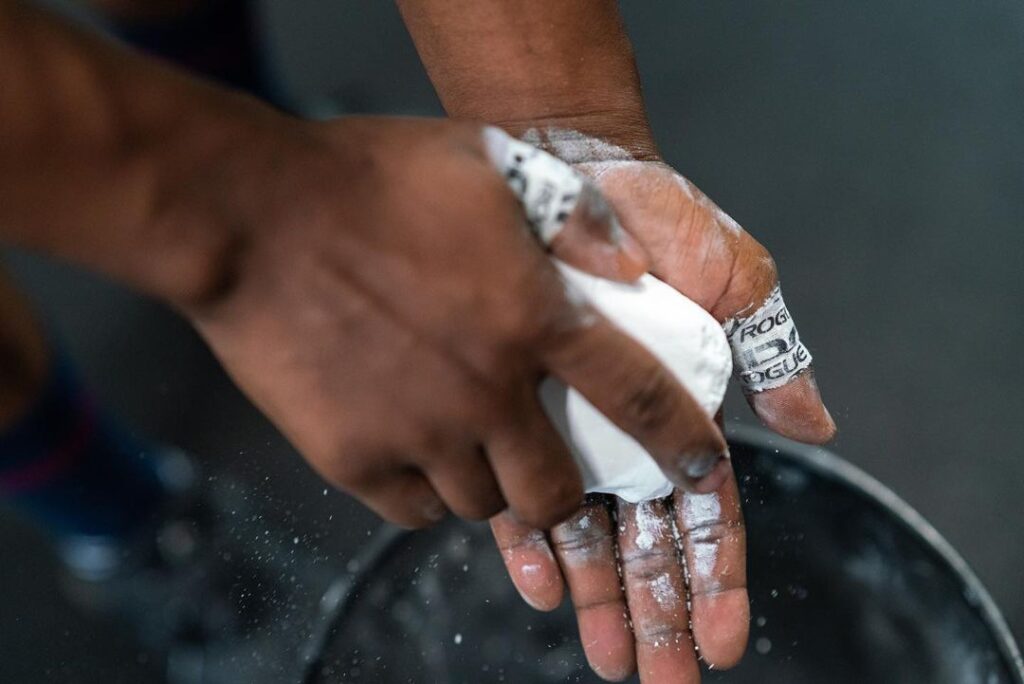 Its excellent stickiness, elasticity, and longevity make it a reliable choice. Its benefits far outweigh its minor cons, making it a worthy investment for any serious weightlifter.
Pros
Exceptionally sticky, strong grip
Elastic, adapts to hand
Long-lasting for intense workouts
Cons
Black color is not universal
Two-roll packs may need frequent repurchase
The 2POOD Weightlifting Tape is a must-have for any serious athlete, especially those who participate in cross-training. This product is the official athletic tape of the CF Games. It's designed to provide the utmost support and protection during high-intensity workouts, ensuring optimal performance and minimizing the risk of injury.
Roll Size: 2 inches x 6.5 yards
Material: Cotton Blend
Glue: Natural Latex
Color: Black, White
Pack Size: Single, 3-Pack, 24-Pack
Best for: cross-training, powerlifting, and Olympic lifting.
Our third place is most suitable for various kinds of cross-training, which is very popular at the moment. The tape material is sweat- and slip-resistant, providing great grip and thumb flexibility on the bar. It will last long during any intensive workout no matter how much sweat and chalk use. It won't leave any residue after getting it off.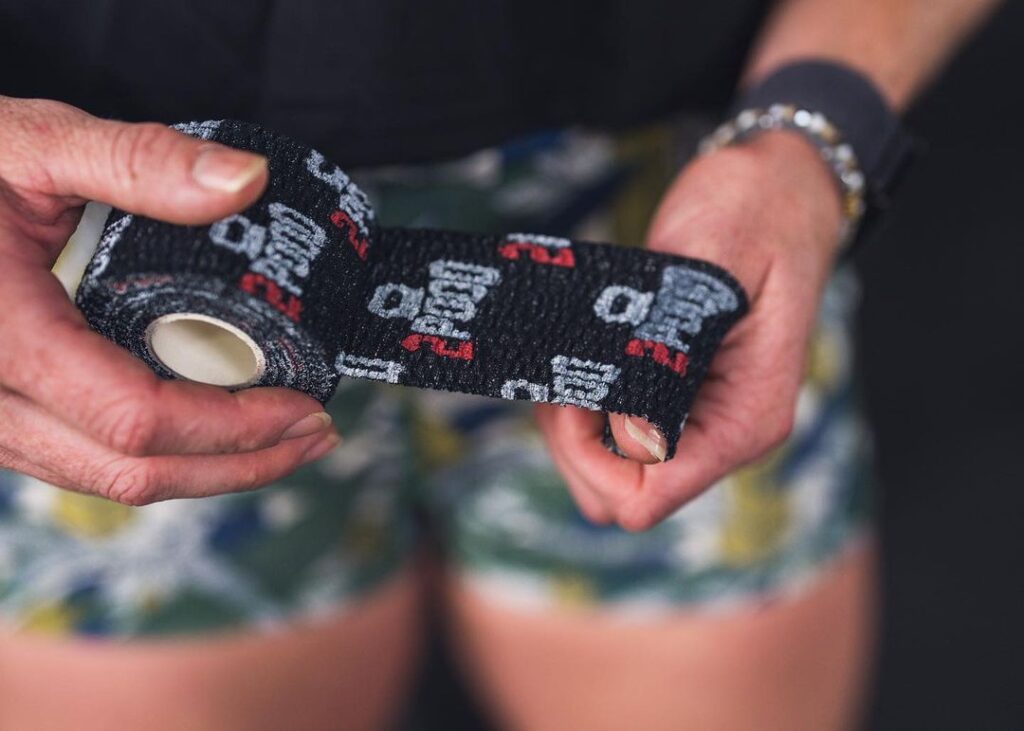 The CrossFit tape is a high-quality, reliable, and practical product that delivers on its promises. It is a valuable tool for any athlete, especially those participating in CF and weightlifting sports.
Pros
High-quality, durable material
Strong adhesive
Easy to tear
Cons
Harsh adhesive for sensitive skin
Elasticity needs improvement for comfort
Scary Sticky Goat Tape is not just a weightlifting grip tape — it's a symbol of persistence and determination and a testament to the strength of the human spirit. This signature product from Goat Tape is designed exclusively with cross-training athletes in mind.
The tape is crafted with a proprietary adhesive strong enough to provide protection and support through the most grueling and sweat-inducing workouts. It is primarily formulated for taping the wrist, thumb, and fingers during Olympic weightlifting training movements.
Roll Size: 10 yards in length and 1.5" in width
Material: Cotton fabric
Glue: Proprietary adhesive
Color: Black
Pack Size: Available in 1-pack, 2-pack, 4-pack, and 6-pack
Best for: cross-training and Olympic weightlifting
The goat has become symbolic of the relentless pursuit of overcoming failures and weaknesses, staring you down every time you walk into the gym. With each use, you're not just applying a piece of tape — you're wrapping yourself in a badge of honor, a testament to your commitment to overcome and succeed. The company always aims to offer its users the best of both worlds – top quality paired with a relatively low price.
Pros
Proprietary adhesive, maximum stickiness
Long-lasting for training.
Versatile for taping.
Cons
Limited elasticity for some
Slightly challenging tear for some users
This adhesive weightlifting finger tape from Gymreapers is designed for serious athletes who are in search of ultimate protection and support for their thumbs during tough lifts. This lifting tape will come in handy for functional workouts, cross-training, and Olympic lifting of any intensity.
Roll Size: Package dimensions: 5.51 x 2.76 x 1.18 inches
Material: Cotton fabric
Glue: Features a proprietary adhesive
Color: Black, red, and white
Pack Size: Available in three- or six-pack options
Best for: Weightlifting, cross-training, gymnastics, strongmen, powerlifting
The lifting tape protects your hands from tearing, cuts, and blisters and allows you to focus entirely on your workout. It shapes to your fingers for a comfortable grip without limiting their movement and position when taking weights.
It's easy to wrap the tape around your fingers or thumb and tear it to apply. The tape is latex-free and made from non-allergenic, breathable, and flexible fabric.
Gymreapers weightlifting grip tape is a reliable option for athletes who want to improve their lifting performance and avoid injuries. It's made by athletes for athletes who understand what quality a weightlifting tape should be to make you hit your maximum.
Pros
Sticks well during multiple reps of a deadlift session
Doesn't leave residue
Trusted brand
Cons
Can slip off the thumb mid lift
Too short
The Element 26 Athletic Weight Lifting Tape is a premium thumb and finger tape designed for serious athletes. This black hook grip tape is not only sticky but also stretchy, offering the perfect balance of support and flexibility. With a sweat-resistant adhesive, it ensures a firm grip even during the most intense workouts. Ideal for WODs, boxing, BJJ, and other high-intensity sports, this tape is a must-have for any fitness enthusiast.
Roll Size: 1.5" Width
Material: High-quality, stretchy athletic tape
Glue: Sweat-resistant adhesive
Color: Black
Pack Size: Available in packs of 3 or 5 rolls
Best for: Weightlifting, WODs, Boxing, BJJ
Some users just really like it, so we included it in our list of great purchases for sports training and even competitions, where you can use it freely.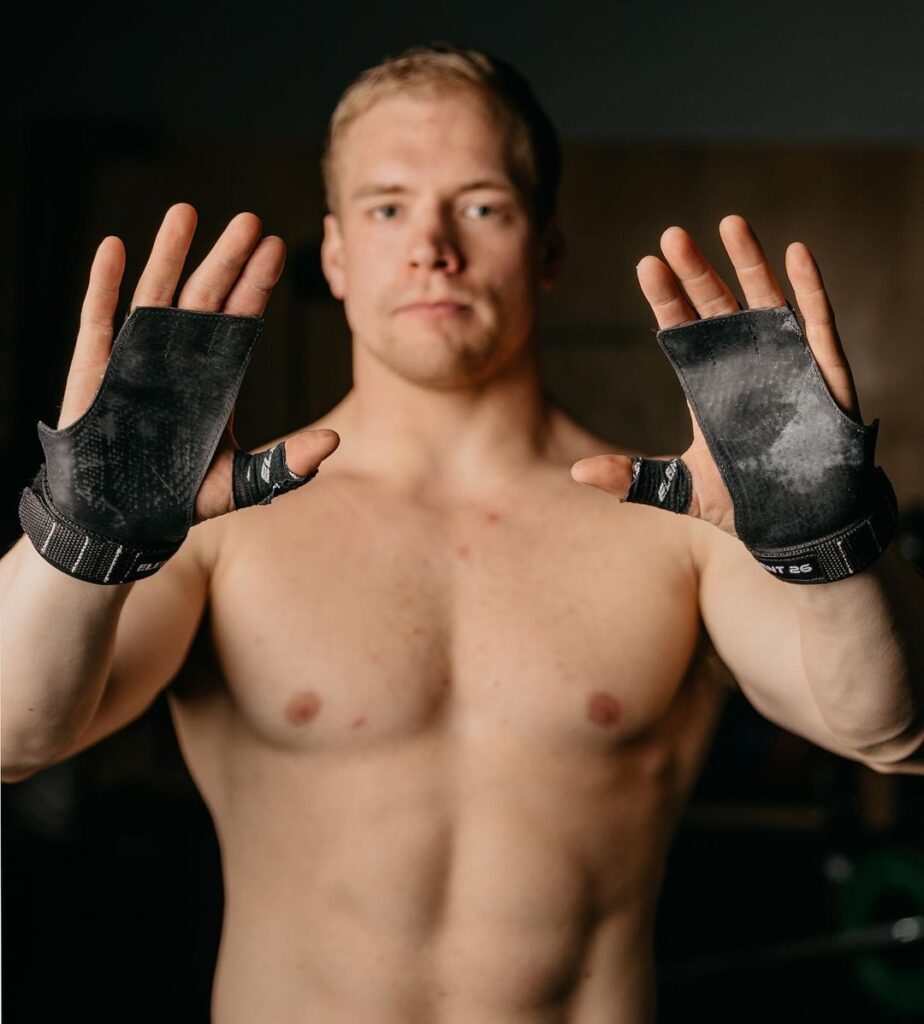 Despite the minor cons, the Element 26 Athletic grip tape for weights stands out for its high stickiness and elasticity, making it a reliable choice for athletes of all levels.
Pros
Exceptional stickiness and elasticity
Sweat-resistant for a firm grip
Long-lasting, versatile for sports
Cons
Slightly challenging tear for some
Durability can be better and sticks to itself over time
The WOD Nation Weightlifting Hook Grip Tape is a top-tier athletic accessory that stands out in its category. This CrossFit tape is a game changer designed to provide optimal comfort and support during your most intense workout sessions.
Roll Size: This barbell tape comes in a sizable roll of 23 feet per roll.
Material: Elastic Cotton
Glue: Premium-quality adhesive
Color: Blue, green, pink, purple, red, white, yellow
Pack Size: 3-pack, 12-pack, 24-pack
Best for: Weightlifting, cross-training, and other similar types of high-intensity training.
Time has shown that this equipment is good under certain conditions. It all depends on what you want to do and how you plan to improve your performance in a particular sporting event. The WOD Nation Weightlifting Hook Grip Tape is an excellent investment for anyone looking to enhance their training experience. With its high-quality material, strong adhesive, and generous size, this product delivers in all the right ways.
Pros
Quality material and adhesive
Generous roll size
Comfortable, stretchy material
Value in bulk packs
Cons
Practice needed for effective application
Strong adhesive, slight residue possible
Subscibe!
Get more reviews about training equipment, special offers and discounts from different stores
What Is Hook Grip and Why It Is Important?
The hook grip is a technique used in weightlifting that involves grasping the barbell with your fingers over your thumb, which is contrary to the traditional overhand grip where the thumb is on the outside of the fingers.
This grip style provides a stronger and more secure hold on the bar, preventing it from slipping during heavy lifts. It's important because it allows for greater lifting power and stability, which can ultimately lead to improved performance and reduced risk of injury.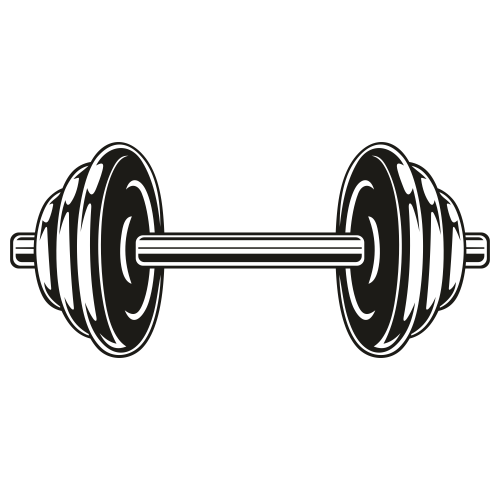 Pro Tip:
Proper Application
What Are the Benefits of Using Hook Grip Tape?
From our short presentation, you may not have fully understood all the advantages that this professional equipment offers you in heavy sporting events. We would like to tell you a little bit more about it with the good information that we are able to provide right now.
Below, you can see the specific benefits of using this kind of equipment that obviously comes along with the products that we have offered above. Grip tape for thumb offers several advantages that can enhance your weightlifting experience.
✅ Improved Grip Strength
This is an important element for professional athletes because it directly affects the degree of performance in both training and performance. Hook grip thumb tape increases friction between your hand and the barbell, providing a more secure grip.
This can help you lift heavier weights without the risk of losing your hold. This technique has been proven to break world records for some athletes to this day and can help you in your future professional career.
✅ Reduced Risk of Injuries
Health is as important to an athlete as any other indicative factor in their training. By stabilizing the barbell in your hand, hook grip tape can decrease the likelihood of accidents caused by slipping weights, thus reducing the potential for injuries or blood blisters. If you get injured, it could end your professional career for life, as it means losing income and your passion for that activity, which is obviously undesirable.
✅ Enhanced Comfort
Comfortable conditions significantly improve your performance in training and all other sports activities. The tape can also provide a "cushioning" effect, reducing discomfort and the potential for calluses and blisters that can occur from heavy lifting. This is a well-known fact proven by thousands of athletes. If you're not sure, just watch any weightlifting competition.
✅ Increased Lifting Performance
Some athletes use this technique to show their physical characteristics as best as possible both in competitions and in regular training sessions. It's one of the most important indicators of the use and popularity of this particular method of working with heavy iron.
You'll be able to improve your lifting strength with a hook grip for Olympic lifting and most of exercises that have the "Catch" phase. Turnover and Catch phases could be faster, but the first and second pull looks to be the same regardless of the grip technique.
With a firmer grip, you can lift heavier weights more easily and efficiently, potentially improving your overall lifting performance.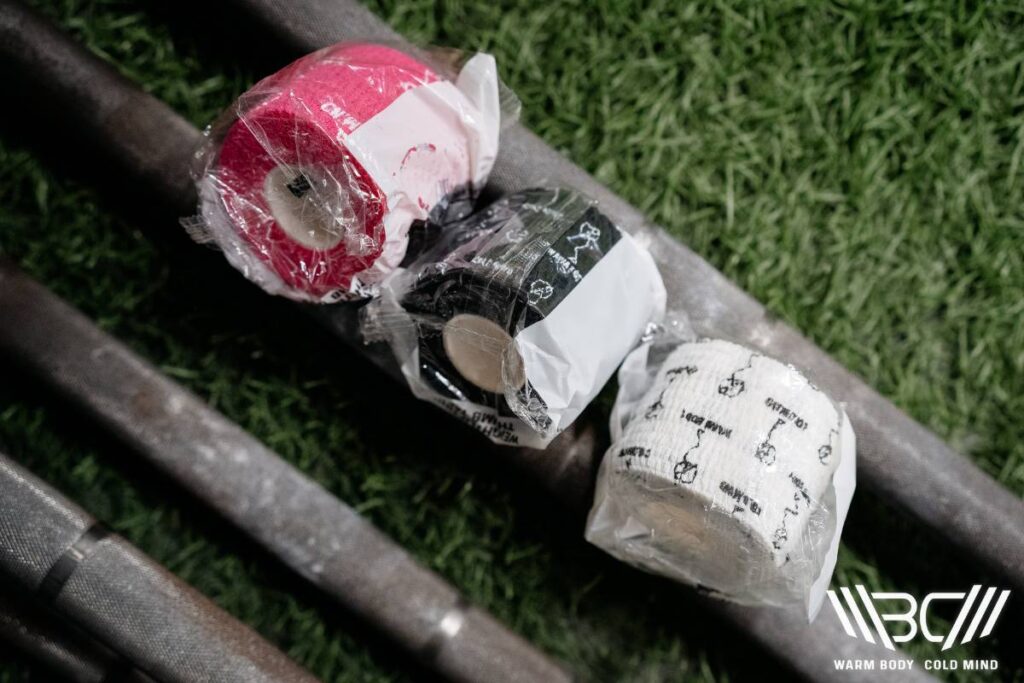 ✅ Longevity of Use
Obviously, you need a product to maintain your performance that will last as long as possible without losing all of its properties over time. Hook weightlifting finger tape is typically durable and can withstand the rigors of heavy weightlifting, making it a cost-effective choice for long-term use.
Should You Use Lifting Tape Every Time You Lift?
A hook grip thumb tape can provide numerous benefits, starting from using it every time you want to lift weight. The reason is quite obvious: the tape can prevent scratches and blisters from occurring, especially if you have plenty of reps to perform.
For lighter weights or exercises where grip strength is not as critical, you may choose to lift without tape. However, for heavier lifts, where a secure grip is essential, using lifting tape can provide the extra assurance needed. But, you can skip using it when lifting with straps: when there's no need for the hook grip.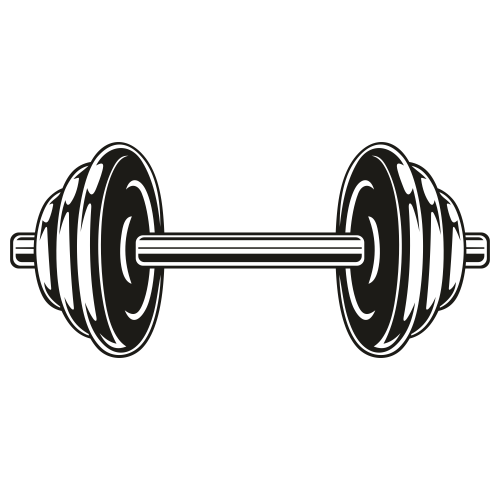 Pro Tip:
Select the Right Tape
How to Pick a Lifting Tape?
Even though we have provided you with excessive information above, you still need to independently and rationally evaluate every feature you see and are offered by people who make and sell this kind of equipment. When choosing lifting tape, consider the following factors.
1. Thickness
Don't forget about thickness: for some athletes, it is one of the most important characteristics, which may seem quite unusual for the amateur level. The thickness of the tape can affect comfort and grip strength. A thicker tape may provide more cushioning, but it might also make the bar harder to grip because of less flexibility.
2. Material
Without quality material, you simply won't be able to use the item harmoniously and for a long time, which essentially destroys all its advantages in buying it, no matter how much it costs. The material should be durable and able to withstand the pressures of heavy lifting. Cotton tapes are often a good choice as they provide a good balance of grip and comfort.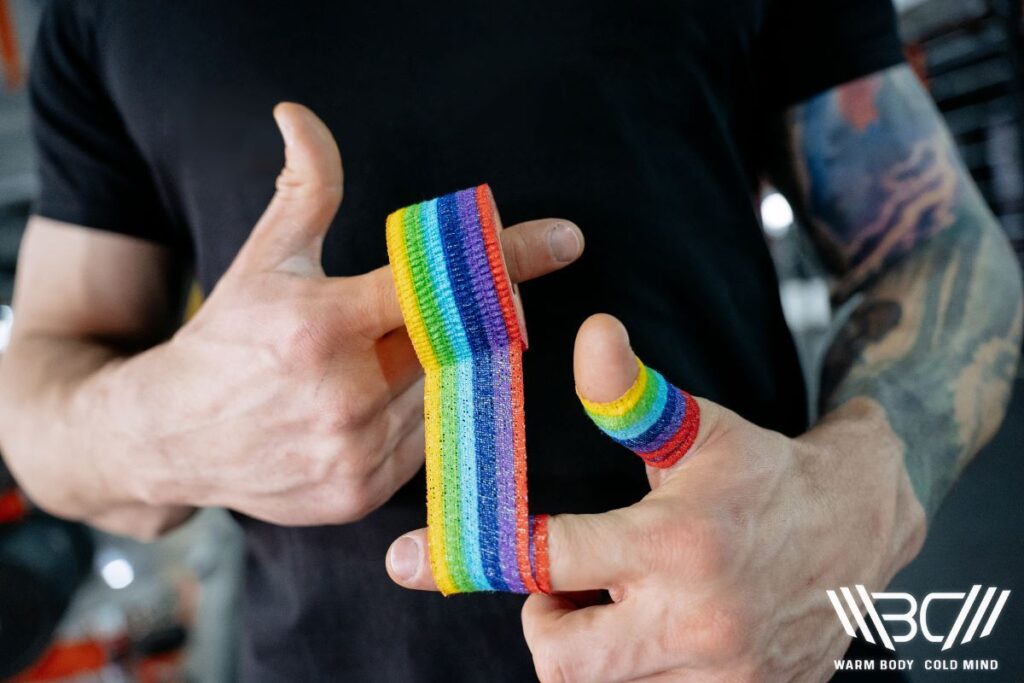 3. Adhesive Quality
The adhesive should be strong enough to ensure the tape stays in place during your workout but not so strong that it is difficult to remove or leaves a residue.
4. Width and Length
The width and length of the grip tape for weights matter too when choosing the proper gear. It should be sufficient for a prolonged period of use and provide the necessary grip. The tape shouldn't be too narrow, or too wide - you need to feel the right width for you. Also, the length is important for the longevity of the use: longer then better.
5. User Reviews
User reviews can provide valuable insights into the quality and performance of the tape. Look for products with positive reviews and high ratings.
How To Properly Use Lifting Tape?
Some even professional athletes still do not use this equipment in the right way, which significantly affects their further development and physical health, as it is the correct technique that allows them to keep it at the proper level.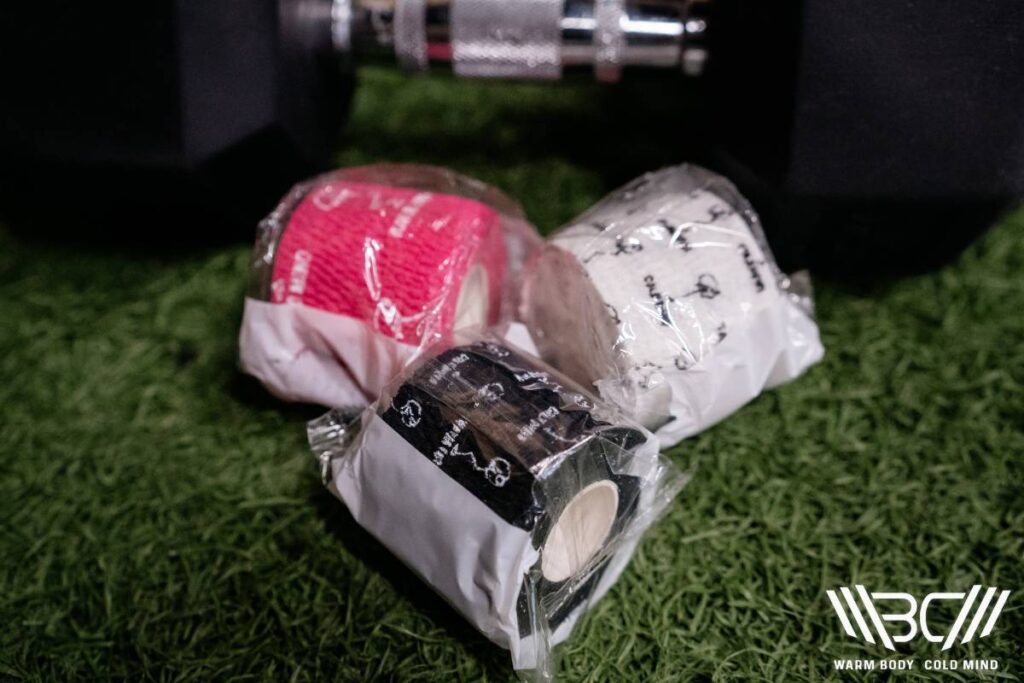 Below, you can see a step-by-step guide on how exactly to use this equipment correctly in a gym. Follow these three steps, but don't forget about practicing your grip strength:
Start with your thumb base and wrap the tape around your thumb by covering it fully. Do it from the top to the bottom. Don't tighten the tape as you'll restrict the circulation in your thumb.
After taping the thumb top and nail, bend your thumb when you tape over the joint to avoid stiffness in this area. Then continue taping to the bottom.
Tear the tape with a quick rip. Make sure you secure it well on the outside of your thumb and mold it.
It's recommended to apply two layers of the tape at the maximum to feel the bar well and not to restrict your movements. Some prefer to double-wrap the bottom to get a more secure grip.
FAQ
Why Do Weightlifters Tape Their Thumbs?
Weightlifters tape their thumbs to protect them from the friction and pressure that come with lifting heavy weights, especially when using the hook grip. The tape provides a layer of protection, reducing the risk of calluses and blisters. It also enhances grip strength, helping to prevent the barbell from slipping during a lift.
How Long Does a Roll of Lifting Tape Last?
The lifespan of a roll of grip tape for the thumb can vary depending on several factors, including the frequency of use, the amount used per session, and the tape's overall quality and length. On average, a standard roll of lifting tape might last for a month or two with regular use.
Is Thumb Tape Allowed in Powerlifting?
Yes, thumb tape is typically allowed in powerlifting. However, it's always a good idea to check the specific rules of the competition or federation you're participating in, as regulations can vary.
What Tape Is Used for Hook Grip Deadlift?
There are several brands and types of tape that can be used for a hook grip deadlift, but commonly, weightlifters use hook grip thumb tape or specifically designed lifting tape. These types of tape offer a balance of grip enhancement, comfort, flexibility, and durability, which makes them suitable for heavy lifts like the deadlift.
Conclusion
If you are a professional athlete, you will definitely love the choice of WARM BODY COLD MIND 2" Premium Lifting Thumb Tape for Weightlifting. This is the perfect option for any occasion. Use only good gear for your own safety and performance enhancement, and buy it now!
References:
Dustin J. Oranchuk, Eric R. Helms, Emily J. Harbour, Adam G. Storey, Eric J. Drinkwater, "Improvement of Kinetic, Kinematic, and Qualitative Performance Variables of the Power Clean With the Hook Grip," International Journal of Sports Physiology and Performance 14, 3 (2019): 378-385.
Natalie Silver, "Blood Blisters: What They Are and How to Treat Them," Healthline, https://www.healthline.com/health/blood-blister#symptoms (accessed November 1, 2023).
Rebecca Joy Stanborough, "What Is Kinesiology Tape?" Healthline, https://www.healthline.com/health/kinesiology-tape (accessed November 1, 2023).
Marianne Huebner, Bryan Riemann, Andrew Hatchett. Grip Strength and Sports Performance in Competitive Master Weightlifters. International Journal of Environmental Research and Public Health, no. 20(3), 2023.
Dustin J Oranchuk, Eric J Drinkwater, Riki S Lindsay. Improvement of Kinetic, Kinematic, and Qualitative Performance Variables of the Power Clean With the Hook Grip. International Journal of Sports Physiological Performance, no.14(3), 2019: 378-384.
Why Trust Our Reviews? Our product reviews are meticulously curated by a team of seasoned athletes, certified coaches, and sports nutrition experts, boasting more than 20 years of collective coaching experience. In our mission to promote Olympic weightlifting and strength training, we engage in comprehensive testing and evaluation of weightlifting products and supplements, making certain that only the utmost quality items meet our rigorous criteria.
We take a hands-on approach, procuring and personally testing these products in gym settings, affording us genuine insights into their performance. Our credibility stems from the expertise of experienced athletes, supported by authentic photos and videos, offering you dependable assessments tailored to athletes of all skill levels.
Ihor Shymechko is a renowned Ukrainian weightlifter. He has represented his country in several Olympic Games, notably in 2008, 2012, and 2016. His impressive career includes winning the European championship in 2009 and earning a silver medal in 2011 in the +105 kg division. Shymechko also earned a Ph.D. from Lviv State University of Physical Culture.